X
Request A Personalised Video
If you would like to know more about any vehicle please enter your details below and what you would like to know. We can then record a video and send you a link to either your mobile phone or email
X
Request A Virtual Appointment
X
Book A Test Drive
We can do this remotely if you would prefer.
MEET THE TEAM
Meet the team at Henrys Skoda who have been central to our success in recent years. A 3rd place finish in the 2019 Skoda Retailer of the Year Awards was bettered in 2020 when the dealership took top prize. Add to that our recent success in being awarded Motability Regional Group of the Year in 2020 and you can see why we are very proud of this team.
Pop into see us or give us a call. You are sure to be well looked after.
Managing Director
Bruce Henry
Managing Director
Dealer Principal
Keir Dunlop
Dealer Principal
Managers
David McKellar
Sales Manager
Derek Cree
Aftersales Manager
Paul Ward
Business Manager
Sales Department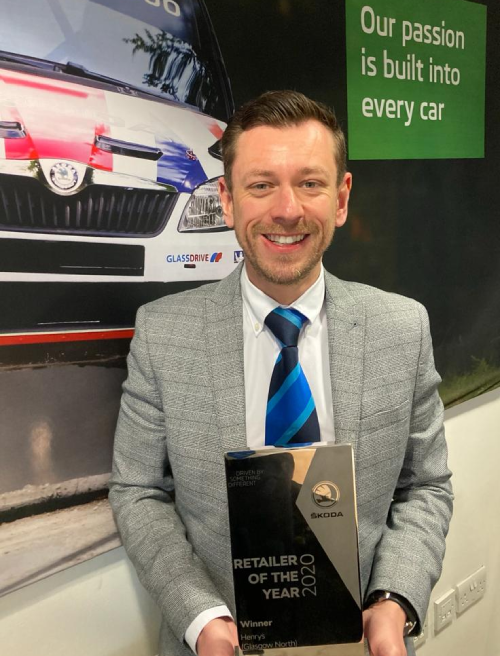 Andrew Aitken
Sales Advisor
Matthew Clark
Sales Advisor
Jaime Calderwood
Sales Advisor
William Dunbar
Sales Advisor
Ian Greenwood
Online Sales
Susan Swindle
Sales Administrator
Aftersales Department
Donald McKenzie
Senior Service Advisor
Emma Cornett
Service Advisor
Emma Swindle
Warranty Administrator
Terry Sloman
Workshop Controller
Ronnie Martin
Master Technician
Cody Kostick
Apprentice Technician
Eddie Watson
Driver/Valeter
Parts Department
Kenny MacKenzie
Parts Advisor
John Gordon
Parts Advisor
Accounts Department
Billy O'Neil
Financial Controller
Marion Fox
Accounts Supervisor
Reception