All-In From ŠKODA
You've had your ŠKODA for a few years, we know the journey's just getting started. That's why All-in from ŠKODA is available.
All-in has been designed for vehicles that:
Are between 3 and 6 years old at point of activation
Are a ŠKODA with an engine size of 2.0L or less
Have done under 100,000 miles at point of activation
Don't have a warranty or service plan already in place
The following vehicles are not eligible for cover:
Battery electric vehicles (BEV)
Vehicles powered by fuel cell or liquid petroleum gas (LPG)
Public hire/private hire vehicles
Vehicles that have a service plan already in place
If you own a ŠKODA aged between 3-6 years old, go All-in from ŠKODA1, save money, and get total peace of mind. Drivers who go All-in save on average £580² over two years. For just £29 a month, you get two services, two MOTs, two years' Roadside Assistance, and up to two years' Warranty.
What you get with All-in from ŠKODA
All-in from ŠKODA – Two Services
1 x Oil Service:
1 x Oil and Inspection Service with Pollen Filter:
Full vehicle road test
Vehicle health check Pollen filter change
Full Vehicle inspection and report to include all lights, instruments, glass, braking system etc.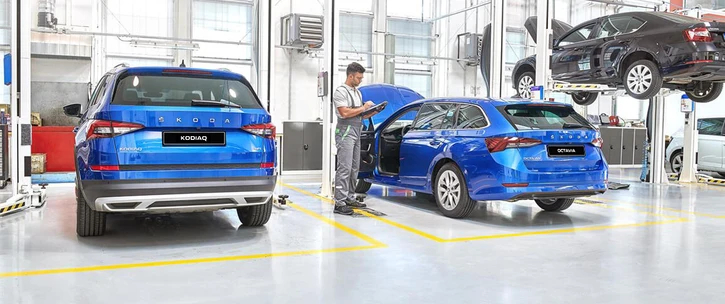 All-in from ŠKODA – Two MOT Tests
Vehicles 3 years and older are required by law to have an MOT test carried out every year. This is to ensure that the vehicle meets the minimum road safety standards (please note that in Northern Ireland this product comes with 2 MOT pre-checks and MOTs). Any repair work required as a result of an MOT failure is excluded.
All-in from ŠKODA – Two years' Roadside Assistance
For total peace of mind we have partnered with the AA to provide you breakdown cover in the UK and Europe, giving you the support of qualified, dedicated technicians – 24 hours a day, 7 days a week.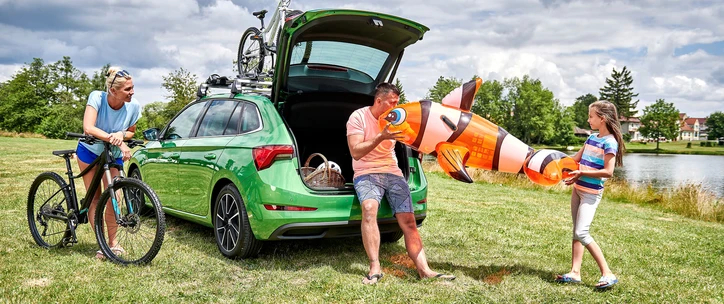 All-in from ŠKODA – Up to two years' Warranty
This Warranty has been designed to cover the costs of repairing or replacing the covered components that have suffered an electrical or mechanical failure during the period of cover (excludes no-claim period).
If your vehicle's previous ŠKODA UK or ŠKODA Financial Services warranty expired over 30 days ago, you won't be able to claim in the first 30 days of your All-in Warranty. It does not cover any vehicle already covered under any other guarantee, insurance, warranty or gesture of goodwill.
What's Included
Oil and Inspection Service - £195
Extended Scope - £60
Oil and Inspection Service - £195
Pollen Filter - £40
Spark Plugs / Diesel Fuel Filter - Petrol £115 / Diesel £70
Air Filter - £55
2 x MOTs - £54.85
2 years' Roadside Assistance - £160
Up to 2 years' Warranty - £580
Total RRP - Petrol £1,445 / Diesel £1,410
All-in Plan - Standard Price - £696 / £29 per month
Saving - £580
Contact our service department to arrange your All In Cover on 0141-552-9000 Or Email – andrew.lawlor@henrys-cars.com