X
Request A Personalised Video
If you would like to know more about any vehicle please enter your details below and what you would like to know. We can then record a video and send you a link to either your mobile phone or email
X
Request A Virtual Appointment
X
Book A Test Drive
We can do this remotely if you would prefer.
With a Google rating of 4.9/5 stars we believe our experienced and friendly team are precisely the people you want on your side when choosing your next car.
We cater for customers across Greater Glasgow area but are more than happy to deliver cars to the whole of Scotland and further afield.
Find out more about our team below and pop into see us
Peter Mustard - Dealer Principal
Peter joined Henrys Suzuki after 14 years at Phoenix Car Company as Group Operations Manager. He was brought up in a car dealership but officially joined the industry after graduating from the University of Glasgow. He brings a huge amount of experience in all departments of a car dealership along with a love of the first new cars he ever sold, Suzuki!
Ryan Seeley - Sales Manager
Ryan has worked within the motor trade for over 10 years, previously for Skoda and Volkswagen, before joining our team at the new Henrys Suzuki showroom. Suzuki is going through a very exciting period and he feels privileged to be part of showcasing this brand. It is also refreshing to work for a business that still shuts on a Sunday and sees value in its staff enjoying a healthy work-life balance.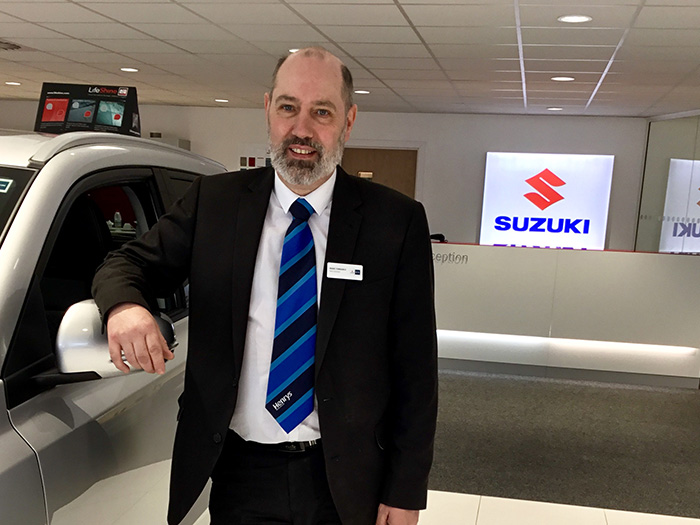 Mark Torrance - Sales Executive
Having previously worked for Phoenix Suzuki, he has over 17 years of experience selling Suzuki's. He's the man for any product knowledge questions, so if you have anything you're not sure of, Mark is the man to ask (that's what we do!) He's a bit of a pool hustler and a keen golfer too!
Joe Bow - Sales Executive
Joe has been part of the Henrys family for over 35 years and knows the company inside and out. He already loves the Suzuki product and can't wait to help build the dealership up to being as successful as the other Henry dealerships. He's a collector of antiques and an expert in Murano glass.
Clair Connelly – Sales Executive
Clair has worked in the car industry for three and a half years, starting at Phoenix Suzuki and is now has come back home to sell Suzuki's. Clair has excellent product knowledge of Suzuki and is vastly experienced in selling both new and used cars. In her spare time Clair is a black belt in karate and enjoys coaching others in the martial art.
Kevin Ruddy - Aftersales Manager
Kevin has 27 years experience in the industry within franchise dealerships. After joining Henrys in 2010 as a Senior Technician, he progressed to a workshop controller which has led him to his current role as Aftersales Manager. Kevin takes great pride in his job, ensuring the Henry's customers receive a 5 star experience. In 2020, Kevin has been nominated by Suzuki to take part in a highly recognised training programme which he is thoroughly looking forward to. With 3 children in the household, Kevin's spare time outside of work is limited but when not carrying out family duties, he is a keen motorcyclist and enjoys occasional mountain biking.
Lewis Henry - Aftersales Advisor
Lewis is often the face of Henrys Suzuki, working on the service desk in the showroom. He is always delighted to help old and new customers who come into the dealership. Lewis has been working in the motor trade for 10 years, starting at Honda then moved to SsangYong and now Suzuki.Ever since the first lockdown he has taken up hill walking, going all over Scotland. He also enjoys going to the gym and mountain biking.
John Beith - Workshop Controller
John joined our Henrys team from a main Honda dealership where he spent over 16 1/2 years. During this time, John progressed through to the highly recognised Master Technician level with Honda. He has brought a vast amount of knowledge and experience to our workshop and is a valued and dedicated member of our Suzuki/SsangYong team. John is currently working towards his full Suzuki Master Technician accreditation. In his spare time, John enjoys spending time with his young family and occasionally squeezing in the odd game of golf.
Raymond Warnock - Technician
Raymond is a highly experienced technician with over 20 years in the motor trade. He has served the Henrys group for a number of years, starting within the Skoda dealership in Glasgow. A highly valued member of our team, Raymond is currently working towards the Suzuki Master Technician accreditation. He has a great love of cars, but his main passion is mountain biking, when not working Raymond can be found careering down the steepest of dirt tracks at speed on his beloved bike.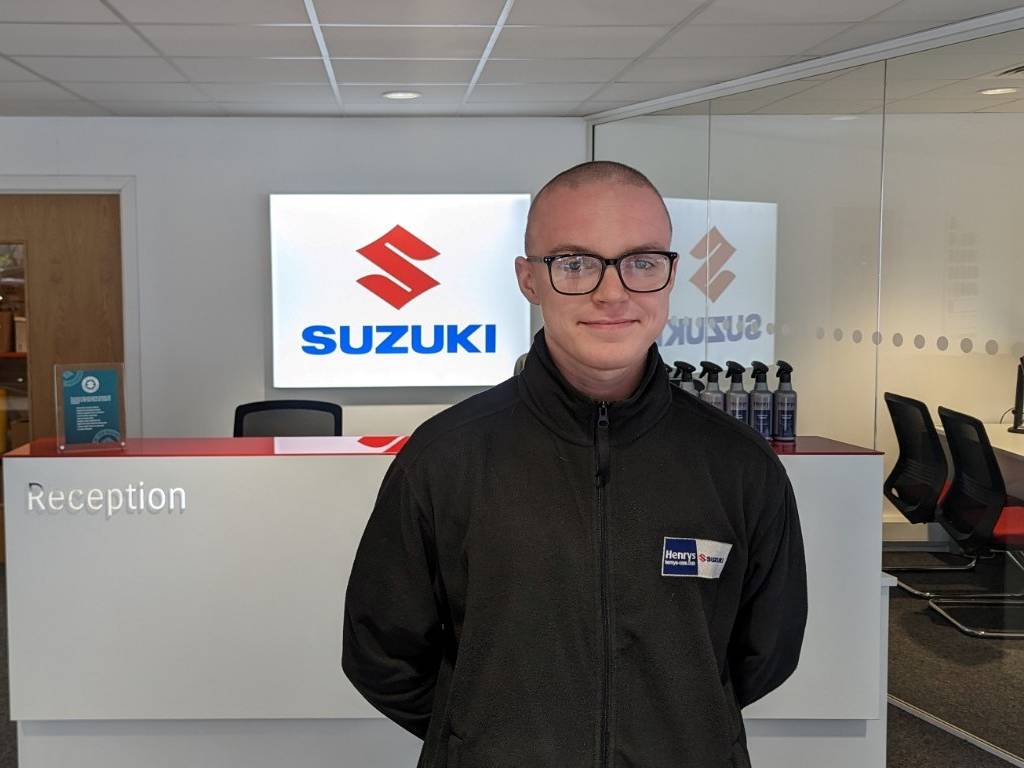 Fraser MacLachlan - Parts Apprentice
Fraser joins the Suzuki team as our first ever Parts Apprentice. Fraser is super keen to learn everything there is to know about how our parts and service department operate. He is looking forward to becoming part of the team and we know he'll be a huge asset to the team. He is a keen car enthusiast who enjoys the F1, he enjoys walking his dog Jake and socialising with friends.
James Henry - Apprentice Technician
James joins the Henrys Suzuki team as a vehicle apprentice. He will complete our Suzuki apprenticeship over 3 years and benefit from working alongside our hugely experienced service team. James can't wait to get started and we all wish him lots of luck in his journey. Away from the dealership James is a big football fan who attends as many games as he can. He also enjoys spending time with his family and is no stranger to a night out with his friends.
Corey Clarke – Vehicle Technician
Corey is a highly experienced vehicle technician with 15-years experience and a vast knowledge spanning several vehicle manufacturers. Corey is currently working towards his Suzuki master technician accreditation and is a highly valued member of the service team. In his spare time Corey has a passion for old Japanese vehicles which he enjoys restoring and modifying.
Kyle Harte - Parts Advisor
Kyle joined the team from Land Rover with over 6 years parts experience. He will now be working towards his Suzuki accreditation and applying his vast parts knowledge to our franchise. When Kyle isn't working, he loves spending time with his little girl, family and friends. He also really enjoys keeping fit so when he gets any spare time, he likes to go to the gym and play football any chance he gets.