X
Request A Personalised Video
If you would like to know more about any vehicle please enter your details below and what you would like to know. We can then record a video and send you a link to either your mobile phone or email
X
Request A Virtual Appointment
X
Book A Test Drive
We can do this remotely if you would prefer.
WE RECOMMEND THAT YOU
USE SUZUKI GENUINE PARTS
All cars are subject to wear and tear – it's the natural course of events for any type of machine. And, unfortunately, some cars are involved in accidents. However, it's important to remember to use, for your safety and for the efficiency of the car, the best parts and accessories possible. These are the manufacturer-produced parts, as they are designed and made to fit the car.
Using Suzuki Genuine Parts means that you get the right fit and the right quality to maintain the standard and efficiency of your car. It also keeps your Suzuki 100% Suzuki.
Additionally, it is important to have a Suzuki-trained technician fit your genuine parts: they are the experts and have the correct tools and diagnostics for the job.
Consider not buying your parts and accessories on price alone. A better fit will mean better safety, better performance and less wear and tear. This goes for parts such as windscreen wipers, brake pads and discs, spark plugs, oil filters or any other part of your Suzuki.
SwiftDoor Sill Guards
Listing price £147.95
Henrys Price £99
Save £49
Swift (2010-2017) Bumper Corner Protection Set (black)
Listing price £62.66
Henrys Price £35
Save £28
Swift (2010-2017) Door Sill Guards (3 Door)
Listing price £79.36
Henrys Price £35
Save £44
Vitara (2016-2018) Roof Edge Spoiler (Galactic Grey)
Listing price £544.36
Henrys Price £199
Save £345
Vitara (2016-2018) Front Skid Plate (2 Tone)
Listing price £403.42
Henrys Price £199
Save £204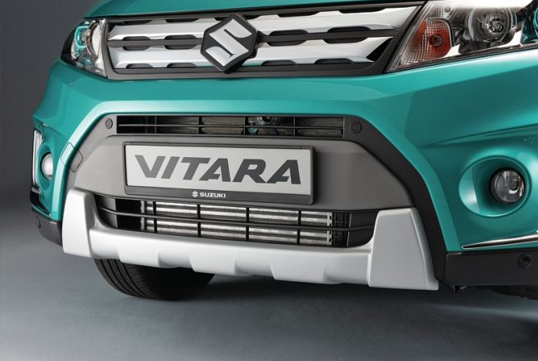 Vitara (2016-2018) Front Skid Plate (small)
Listing price £283.39
Henrys Price £99
Save £184
Vitara (2016-2018) Rear Bumper Protector (Black)
Listing price £49.85
Henrys Price £19
Save £31
Vitara (2016-2018) Dash Panel Trim (Black)
Listing price £181.93
Henrys Price £79
Save £103
Vitara (2016-2018) Orange Louver Ring Set
Listing price £48.30
Henrys Price £15
Save £33
Vitara (2016-2018) Clock Bezel (satin chrome)
Listing price £8.12
Henrys Price £3
Save £5
Baleno Bumper Corner Protection Set
Listing price £226.57
Henrys Price £99
Save £128
Baleno Side Body Moulding Set (Black)
Listing price £508.19
Henrys Price £199
Save £309
Baleno Front and Rear Mudflap Set
Listing price £323.88
Henrys Price £149
Save £175
Baleno Cargo Tray
Listing price £31.86
Henrys Price £15
Save £17
SX4/S-Cross Door Sill guard set (2 tone, black and Silver with Logo)
Listing price £93.19
Henrys Price £39
Save £54
SX4/S-Cross Rear Bumper Load Area Protection (aluminium)
Listing price £65.26
Henrys Price £29
Save £36
Celerio Bumper Corner Protection Set
Listing price £231.83
Henrys Price £99
Save £133
Celerio Side Body Moulding Set
Listing price £337.28
Henrys Price £149
Save £188
Celerio Front and Rear Mudflap Set
Listing price £351.13
Henrys Price £149
Save £202
Celerio Cargo Tray
Listing price £36.26
Henrys Price £15
Save £21
Celerio Rear Bumper Protection Vinyl
Listing price £27.06
Henrys Price £9
Save £18
MAKE AN ENQUIRY
Complete the form below to contact us